Starting from the month of May 2000, in order to meet the specifications of Clients, BAMBINI S.p.A. have had its quality management system certified by RINA. The certification currently complies with ISO9001:2015 rules.
In May 2018 BAMBINI S.p.A successfully obtained from RINA the certification of the management systems for safety and environment in accordance to ISO 45001:2018 and ISO 14001:2015.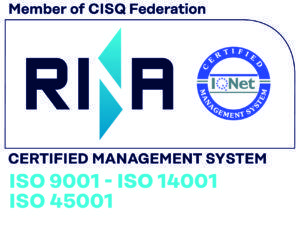 BAMBINI S.p.A. continues to maintain to all current certifications necessary for the supplied services.
The vessels of the fleet follow a strict procedure of updating, which pursues all new international codes and regulations, with the purpose to operate in constant safety and reliability.
Our crews are always subjected to a steady training program with the purpose of valorisation, support and education of the human resources engaged, following the guidelines of Standard for Training, Certification and Watchkeeping Convention.